The Service: Botox®, Fillers & NEW PDO Thread Lift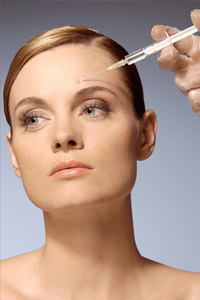 Treatment is carried out by either Dr John Wrightt, a fully qualified dentist with a research doctorate degree or Helen Wright a highly qualified Public Health Practitioner. We are based in both the West End of Glasgow and Dumbarton.
Toxin A is injected directly into the muscles that cause the wrinkles/lines, using an ultrafine, ultrashort needle. Excess underarm treatment is treated in a similar way but requires more product. One of the several injections that are required is shown on the image opposite. Localised discomfort and some bruising can occur occasionally, but normal activities can be resumed afterwards.
With the more up to date ranges such as Intraline®, Sculptra® or Vycross® the concept is different. Fillers are a natural gel like material which is injected just under the skin to 'plump' out the surface just enough to naturally look young again. Any deficiencies in the facial fat pad areas are addressed and restored and is known as the 8 point lift. This helps pull up any loose or saggy tissue below the area treated and produces a very natural and younger looking effect without looking as 'lumpy' or 'obvious' as traditional methods.
We only use the highest quality threads available. PDO stands for Polydioxanone. These threads have been used in medicine for over 3o years in cardio surgery. They are safe, predictable and reliable. The method is relatively non-invasive, based on implanting a biodegradable suture material under the skin to help stimulate collagen production over a period of 4-6 months. Intraline threads have been proven to tighten, rejuvenate and restore sagging and loose skin and the results last upto 18 months. The biggest advance has been made by their use in dealing with lower jawline tightening which up until now has not been very effective without facelift surgery.
The Results:
Toxin A usually takes effect in 48-240 hours after treatment. After 1-2 weeks peak effect takes place and generally lasts for 4-6 months, but with successive treatments up to 12 months have been reported. After treatment the muscles of facial expression become more relaxed and the effect is a smoother appearance of the skin surface. Only the best quality products are used which include brand names such as Botox, Azalure, Xeomin and Dysport etc.
For fillers the results are instant. There are several different products available that practitioners use and they can all be discussed in more detail at consultation. The New 8 Point Lift is now available. Advertising of individual prescription products is prohibited by law so they are not named on this website. For fillers the best quality is always purchased, using well known products such as Juvederm Ultra and Vycross, Intraline, Restylane, Belotero, Radiesse.
For PDO threads there is an immediate effect but over the first 6 months the body's own collagen will create a better and longer lasting result. PDO threads are used for most areas of the face and will help tighten up areas of loose sagging skin.